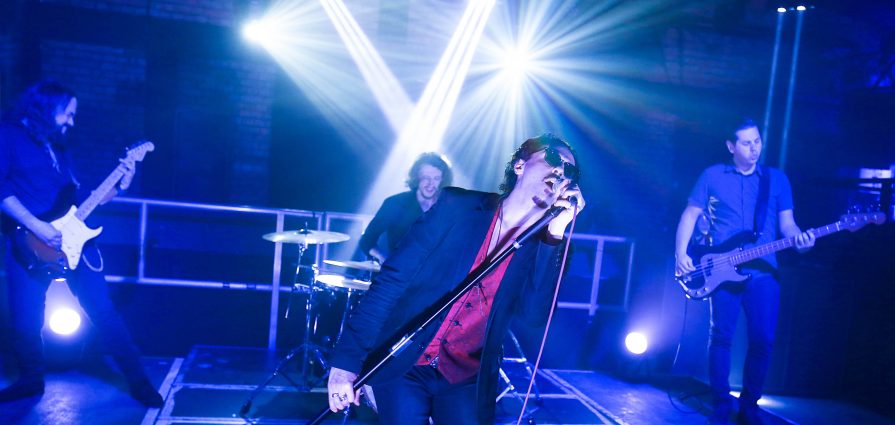 ---
Press Release
JOAN ARMATRADING CBE
---
NATURAL RHYTHM – Released via BMG on July 23rd 2021
Speaking about the new single, Joan said: "Natural Rhythm's got right inside my soul, the pulse is slow but my heart beats fast."
Natural Rhythm is the second single from Consequences, Joan Armatrading's recently released Top 10 album which shot straight into the UK Top10 in its first week of release.
On July 23rd BMG release Natural Rhythm, from Consequences, following up on the highly successful first single, Already There .
Natural Rhythm is the first track on Consequences (Radio 2's Album Of The Week week) and, as with the other nine songs, is completely written, performed and produced by Joan herself.
The new single is a jaunty upbeat song in complete contrast to the first single which described a different aspect of love, the moment when one person had already fallen in love and was waiting for their partner to catch up.
Herewith links to the Packshot and Label copy.
Packshot: https://www.dropbox.com/s/ynimnxhntaemle6/NATURAL%20RHYTHM.tif?dl=0
Label copy:https://www.dropbox.com/s/q1aeuaafljepiek/labelCopy_Joan_Armatrading_Natural_Rhythm_%28Single_Mix%29_Digital_One_Track_Audio_538707745_14-Jul-2021_19hr19min16sec.pdf?dl=0
Natural Rhythm, as with all Joan's songs has a beautifully crafted lyric which denies being Star Crossed but admits to being lovers and reading each other like an open book.
Joan will be performing tracks from Consequences as well as some of her biggest hits on the live stream concert she is airing on July 31st. Tickets for access to the concert are available now from https://joan.lnk.to/Livestream and are priced at £ 24.00.
---
Blurred Vision are delighted to confirm their appearance at Download Festival on Sunday 16th June. They play the Dogtooth stage at 12.40pm.
This will be the first time Blurred Vision have played the prestigious three day event which is held at Donington Park, Leicestershire. Download is the UK's biggest annual rock and heavy metal event and the natural successor to the Monsters of Rock Festival held there until 1996.
Ahead of Blurred Vision's festival appearance comes the release of the official music video for their new single 'Magdalena' – the first offering from the band's forthcoming second album.
The video was shot in East London in an abandoned warehouse turned nightclub and takes viewers into the heart of the song's club-thumping pulse. Footage sees the band performing live and as vivid blue silhouette figures beneath a cascading light show and gives a clear sense of the energy of the new live show and new line-up.
Blurred Vision will also be performing a special free concert at the Old Queens Head in Islington on Thursday 6th June to celebrate the release of the 'Magdalena' music video. Fans are encouraged to reserve their free tickets online to guarantee entry and tickets can be found on the band's official website.
To watch the official video for 'Magdalena', download/stream the song on Spotify and Apple Music, and to get tickets to the band's free show in London, please visit http://blurredvisionmusic.com
---
NEW SINGLE FROM BLURRED VISION 'MAGDALENA'
DIGITAL RELEASE DATE – FRIDAY 10th MAY 2019
Free Launch Show 6th June
Old Queens Head, 44 Essex Rd, London N1 8LN
Blurred Vision are pleased to announce the digital release of their new single, 'Magdalena'.
It will be available on all major streaming and download platforms on 10th May and will be accompanied by a lyric video on Youtube…. https://youtu.be/mmGJBqOsjXY
An official music video will be released on 3rd June to be accompanied by a free show to take place at the Old Queens Head in Angel on Thursday 6th June.
An effervescent, foot-stomping, club rock anthem of a track, 'Magdalena' comprises the first offering from the band's forthcoming second album.
Inspired by the call of the collared dove, 'Magdalena' is about an eponymous superheroine who breaks the chains of inhibition and mediocrity to free her subjects from the shackles of their mundane world.
Band founder/songwriter Sepp Osley said "For anyone, if lucky, there is that individual, that free spirit, who comes into your life and completely liberates you from the things that hold you back. Conceptually it really appealed to me as a super power figure. Musically it all started with the call of the collard dove – one of those fortuitous moments where nature gives you that wild ear worm you really want to sing."
Blurred Vision has been working directly with graduate students from London's MET Film School to create concepts for both the lyric and the official music videos. Students have submitted original material covering all aspects of animation, editing and post production with a view to bringing a young, fresh approach to the interpretation of the song.
This is not the first time that Blurred Vision have been involved with creative video concepts. Their first video to accompany a retitled remake of Roger Waters' 'Another Brick In The Wall' was directed by award-winning director Babak Payami. The song went viral and the video was cited as one of the Top 100 Most Influential Pop Music Videos of All time by Televisor Germany/MTV Europe.
Blurred Vision's 'Dear John' video, in celebration of John Lennon, brought together artists and fans from across the world while the bleak 'Democracy (Beckett cut)' employed a strong monochromatic, confrontational approach which was both stark and compelling.
With the recent announcement of a new live lineup, Blurred Vision are on the verge of releasing their second album. Like their first, it is again produced by Terry Brown.
The new lineup sees the addition of some of London's hottest young musicians. Joining Sepp Osley are Bentley Levy on bass, Jake Bradford Sharp on drums and Jake Libretto on guitars.
Blurred Vision
blurredvisionmusic.com
Tickets from the Troubadour and www.blurredvisionmusic.com and ticketweb.co.uk
---
'BLURRED VISION'
UNUSUAL NOVEMBER RESIDENCY AT HISTORIC TROUBADOUR FOR UK BASED ROCK TRIO November 4th, 11th, 18th, 24th
The Troubadour, 263-267 Old Brompton Rd, SW5 9JA
020 7341 6333
Blurred Vision are a band of our time. Using genres that span the divides – rock with pop, driving riffs with melodic lyrics – they make sense.
Now, more than ever, with a world losing focus, it's pretty refreshing to find a band like this. Indeed it's even rather old-fashioned. Bob Dylan noted changing times, John Lennon voted peace a chance, Neil Young was all for impeaching the President. Blurred Vision merely pick up the baton for youth.
Of course it's not every band that has such an interesting CV to inform their progress.
The two Iranian brothers of this UK based trio, Sepp and Sohl Osley, fled their homeland when young to escape the oppressive regime. Their family set up home in Canada and it was there that they met drummer Ben Riley and in 2010 released their first single, a remake of Pink Floyd's Another Brick In The Wall Part 2 dubbed (Hey Ayatollah Leave Those Kids Alone).
A huge viral hit (much approved of by Roger Waters), the song was followed by live shows, various video awards, a film soundtrack, an acclaimed first album and appearances at festivals across the UK.
Now, this Autumn, Blurred Vision take their next big step. Having been offered a residency at London's historic Troubadour Club to spearhead the club's 'Season of Peace and Light' – they play November 4th, 11th, 18th and 24th – they come with a brand new show.
To coincide with these four Earls Court gigs the band release a special five track CD. Limited edition, UK only, it's titled simply, eponymously, 'Blurred Vision'. Physical copies of the EP will be on sale exclusively at the shows.
The new material is produced by Terry Brown and has a modernised rock sensibility with a nostalgic sophisti-pop touch. Combined with the lyricism that has become the band's trademark style, this highlights a new direction of sound for the trio.
In short, Blurred Vision (who are also ambassadors for New York charity WhyHunger) are a self-motivating force to be reckoned with. Make no mistake, one way or another, these boys mean business.
However you call it, Blurred Vision are worth a close look.
Blurred Vision
blurredvisionmusic.com
Tickets from the Troubadour and www.blurredvisionmusic.com and ticketweb.co.uk
---
'Rock 'n' Roll In The Making'
With Legendary Producers Terry and Phill Brown
Metropolis Studios, The Power House, 70 Chiswick High Rd, London W4 1SY
Saturday 8th October and Sunday 9th October, 2pm
Led Zeppelin, The Rolling Stones, Jimi Hendrix, Rush, The Who, Pink Floyd and many more all have one thing in common, well two actually – brothers Terry and Phill Brown.

For the first time in their illustrious and iconic 50+ years in music, they're teaming up to talk "Rock 'n' Roll In The Making".

And here's your chance to be a part of this very rare and limited studio experience of a lifetime. Immerse yourself in a day of rockroyalty, hear the stories and pick the brains of two of the most successful producers ever and be part of a new rock experience.

A fully catered event at Metropolis Studios, each day will take a behind-the-scenes look at some of the most successful albums of all time told by the legendary brothers who helped make them. Hear the in depth stories about the genesis of albums from Led Zeppelin, The Rolling Stones, Bob Marley, Jeff Beck, Jimi Hendrix, Rush, The Who and many more.

Post Q&A, there will be a live performance in studio from Rock trio Blurred Vision. The band's celebrated debut album was produced by Terry and they have just announced their second album is to be produced and engineered by Terry and Phill, marking the first time in their remarkable career that the Brown brothers will head into the studio to record an album together.

A very limited edition recording of the performance will be printed exclusively for each ticket holder.

The weekend event also marks the birthday anniversary of John Lennon and the band's tribute to him, "Dear John", released 9th October 2015. In the spirit of The Beatles, this will be an inclusive happening… everyone will be invited to join the band during the chorus and appear on the final live cut with full sleeve name check..

Hosted and moderated by Prog Magazine Editor in Chief Jerry Ewing and veteran music broadcaster/journalist Malcolm Dome. Tickets are priced at £149 per day.These will be limited to 50 tickets only each day.

Ticket buyers will also get free tickets to Blurred Vision's 'Manhattan' soundtrack album launch party on 30th September at Camden Assembly. Tickets are available now exclusively through the official Blurred Vision Pledge Store: www.pledgemusic.com/projects/blurred-vision
Blurred Vision
http://blurredvisionmusic.com
---
BLURRED VISION ANNOUNCE SOUNDTRACK ALBUM LAUNCH PARTY IN LONDON
'MANHATTAN'
Soundtrack Album Launch Party in Association with Pledge Music
Camden Assembly (formerly Barfly) – London
Friday, 30th September 7:30pm – Doors 8:30pm – Show
The launch party for Blurred Vision's 'Manhattan', the soundtrack album to Paramount Pictures' distributed feature film 'Manhattan Undying', will take place at Camden Assembly on 30th September, the CD's official release date.

The band will be performing brand new songs off the album and tracks never before heard live. The evening will host a variety of special guests and aims to make fans feel like they have entered one of the sets of the film itself.

'Manhattan' will be released in digital format only on September 30th, available from all usual outlets. In addition there will be a. limited edition physical release, including signed CD and vinyl copies, available only until the official release date and exclusive to the band's PledgeMusic store: www.pledgemusic.com/projects/blurred-vision

Tickets are on sale now exclusively through the PledgeMusic link.
Ticket prices are as follows:
£10 – General Admission – advance purchase (£12 at door)
£18 – Deluxe Package – general Admission + 'Manhattan' CD
£25 – Gold Package – general admission + 'Manhattan' CD + black or red 'Insanity Cube' T-shirt
---
MANHATTAN UNDYING – THE MUSIC
Blurred Vision Soundtrack to new Paramount Pictures' Film
(with hint of things to come)
UK based Canadian trio Blurred Vision provide pointers to their second album through original music used in Paramount Pictures' feature film 'Manhattan Undying'.

The new film stars Americans Luke Grimes (American Sniper, True Blood, 50 Shades of Grey) and Disturbia star Sarah Roemer and had just been released.

A dark love story about a renowned but troubled young painter (Grimes) and his mysterious and immortal vampire muse (Roemer), the movie is set in the gritty backdrop of New York City.

Blurred Vision have seven original tracks featured in the film. These include songs from their critically acclaimed 2015 debut album 'Organised Insanity' (hailed as "one of the best of 2015" by Team Rock UK) plus a brand new track called 'In Spectre'. This latter previews the sound of their forthcoming second album.

The band not only contributed original music to the film but also reworked songs to suit specific scenes. They previously worked with 'Manhattan Undying' director/filmmaker Babak Payami on the music video for their award-winning remake of Pink Floyd's 'Another Brick In The Wall Part 2'.

Blurred Vision are set for a series of major shows and festivals this summer including their first appearance at Camden Rocks Festival – 4th June, 6pm at Dingwalls. They also make a headline appearance at the first ever Rock On The Lawns festival at Trading Boundaries in Uckfield on 30th July, and play one of the best loved rock festivals of the year with their appearance at Ramblin' Man Fair, Sunday 24th July, in Mote Park Kent.
---
Together for the first time!
CUTTING CREW + BLURRED VISION
Selected Live Dates
On April 29th Cutting Crew's main men, vocalist/founder Nick Van Eede and guitarist Gareth Moulton, head out with Blurred Vision as one unit to play a handful of selected UK dates.

Sometimes it takes a chance meeting, sometimes a span of years, sometimes it's plain old synergy. Then sometimes it's simply that old chestnut, six degrees of separation. There's an argument for all points of view here.

When UK based Canadians Blurred Vision, founded by Iranian born brothers Sepp and Sohl Osley, met world rockers Cutting Crew it was their producer, the renowned Terry Brown, who made the introduction.

The Crew were just one of a host of luminaries that Terry had worked with.

Always drawn to a cracking song – he produced the mega hit '(I Just) Died In Your Arms' amongst others – he was instinctively drawn to Blurred Vision. The two groups met through him and, regardless of age gap existed, the music was on the same page.

Fast forward to 2016 and a one off merger of like minded souls and superlative musicians… All the hits will be featured along with new material from both bands' recent albums. The dates also mark the 30th Anniversary celebration of '(I Just) Died In Your Arms'. With the first leg of the tour already on sale, subsequent dates will be announced shortly.

Cutting Crew have sold millions of records world-wide and their huge radio play continues to grow. Their new album 'Add To Favourites' has already been called the 'best of their career' (Discussion magazine). Alongside his work with the band, Nick Van Eede is an in-demand song writer with credits including Pixie Lott, Mika, Marillion and Cher amongst others.

Blurred Vision have already caused quite a stir. Their version of 'Another Brick In the Wall' led to world-wide acclaim and a ringing endorsement from Pink Floyd founder Roger Waters. Their debut album 'Organised Insanity' was hailed by Team Rock UK as "one of the best of 2015" while Record Collector Magazine praised their live show as "Stadium/Arena sound with intellectual clout".
The first leg of the tour has just been announced including the following venues:
The Forum, Tunbridge Wells (April 29)
Stockton ARC, Stockton On Tees (May 6) website
100 Club, London (May 8) website
Tickets are priced £12.50 – £15 and are on sale now from all venues. It could be said there's a blurring of lines between old and new, but the cutting edge stays the same. The message is clear… this is going to be one unique show!
Take a look on YouTube
---
Biography
BLURRED VISION… THE STORY
In 2009 an uprising took place in Iran. It saw the majority of the country's population, mainly young students, take to the streets in their millions to protest the corrupt and rigged elections that won president Mahmoud Ahmadinejad his presidency.

Thousands of miles away in Canada Iranian born brothers Sepp and Sohl Osley, along with the rest of the world, watched on social media as horrific scenes unfolded on the streets of Tehran. The government cracked down on peaceful protests and with extreme brutality killed many of those fighting and imprisoned thousands more.

It was the first time a generation was watching an uprising in real time.
The two Osley brothers fled war torn Iran with their family at a very young age in the mid 80s. The scenes that came out of Iran in 2009 hit close to home and they reacted – through their music.

In a span of two months, with producer Terry Brown, they recorded an updated version of Pink Floyd's iconic song "Another Brick In The Wall Part 2". But it had a twist. Lead singer/guitarist Sepp decided to sing "Hey Ayatollah Leave Those Kids Alone" replacing "teacher" with protest against a new villain. They wanted to make a stand against the atrocities taking place in their homeland.

After recording their version of the song, the band called the University of Toronto's film faculty. They wanted to make a statement video. The head of the film faculty forwarded the recording to Babak Payami, a Silver Lion award-winning and celebrated filmmaker who was running the creative arm of the Benetton Group in Italy at the time. On hearing the track Babak Payami flew directly to Toronto to meet with the band. He confirmed that he would direct the video to the band's first ever single release.

The video was shot in two days in December 2009 with no budget and with a crew of budding film students. Roger Waters, Pink Floyd's founder, was approached for his permission to use the song.

On February 1 2010, with the Iranian uprisings still in full force, Blurred Vision uploaded their first video to Youtube in the early hours of the morning.

On waking up they saw the video had gained over 10k views in a few hours. By the second day the number had doubled and the video was well on its way to going viral… but no one really knew the impact it was about to have.

As the view count kept growing Blurred Vision submitted the video as an artistic piece to the Soho Shorts Festival in London UK. It was accepted and in the running for best music video up against the likes of The Gorillaz, Plan B and Franz Ferdinand (although shot on no budget).

In England Sky News was the first to cover the story and with 100k views on Youtube and a nomination in the festival the word spread fast. On July 28 the Associated Press released an article that was picked up by major media publications around the world.

At this point Roger Waters posted a statement on his newly created Facebook page supporting the band and their stand against what he called a "repressive regime". Blurred Vision was in the world's spotlight.

Features appeared in The Independent, The Guardian and The Telegraph;their first major TV appearance on BBC GMT was watched by 75 million people around the world. This included the White House who had taken an interest in what the brothers had done.

The video would also become one of the first cover songs on Youtube to go viral. (While this happens regularly now it is almost never with such global artistic/social impact.)

After weeks of press in the UK Sepp and Sohl Osley returned to Toronto to find themselves in a difficult position. They had a massive media craze but no music to follow it up with, not even a band to call their own.

Then Terry Brown introduced them to drummer Ben Riley, son of famous composer and organist Doug Riley. It was group at first sight.

Meanwhile the video was making waves. It won best music video at the first ever Beverly Hills Film and New Media Festival in October 2010. It was an official selection in the Atlantic City Film Festival and, most notably, it was chosen by Televisor Germany in association with MTV Europe as one of the top 100 most influential Pop Music Videos of All time. It was also displayed in the Museum of Modern Art in Cologne and at Fact Liverpool in the UK alongside the likes of The Beatles, Pink Floyd, Peter Gabriel, and many more.

The newly formed band started to rehearse and record with Terry Brown for a debut album but their focus was primarily elsewhere. They wanted to be ready the next time they found themselves in the spotlight so they spent the next four years performing concerts in the US and Canada.

In 2012 they became official ambassadors of NYC based hunger and poverty charity Whyhunger, joining the likes of Bruce Springsteen, Carlos Santana and Jackson Browne.

They became the only band invited from Canada to perform at The Beatles 50th Anniversary Concert in New York City playing to a sold out crowd at the historic Hudson Theater in Manhattan. (Organisers declared "In the very near future, when Blurred Vision are a worldwide name and adored by millions, the producers will be able to say they were visionaries and knew exactly what they were doing by inviting this band to New York City".) Blurred Vision then played the Hard Rock Cafe in Times Square at the annual WhyHunger Awards.

In 2014 Blurred Vision performed at what would become one of the world's biggest festivals in numbers , World Pride in Toronto, which brought in approximately 2 million attendees to the Pride parade.

The following year the band released their debut album "Organised Insanity". It was met with widespread acclaim. They made their new base in London and began work on the video for "Dear John" a birthday message to John Lennon. Fans and musicians from across the world took part in a poignant tribute to the man and his legacy.

In 2018 Blurred Vision saw a line-up change. With front man Sepp now settled in the UK and Sohl and Ben remaining in Canada, three young British musicians joined Sepp…. Bentley Levy on bass, Jake Bradford Sharp on drums and Jake Libretto on guitars.

Recently Blurred Vision has been working directly with graduate students from London's MET Film School to create concepts for both a lyric and official music video for their new digital single release 'Magdalena'.
'Magdalena', along with the lyric video, was released on May 10th with the official video out June 3rd and a free launch show on June 6th. It is the first track to be released from 'Redemption', the forthcoming second album scheduled for Autumn release.

This is not the first time that Blurred Vision have been involved with creative video concepts. In addition to their Roger Waters' track and the 'Dear John' video the band have produced several other memorable videos including the bleak but potent 'Democracy (Beckett cut)' employing a strong monochromatic, confrontational approach.

2019 also saw the band play Download festival while a performance at the new Cancer on the Rocks festival in London is scheduled for November 23rd. Ramblin' Man festival has already been announced for next year.

In addition, on October 9th, Blurred Vision pay tribute to John Lennon with a concert celebrating his legacy and birthday. The evening, in aid of the UK charity War Child and taking place at the Hard Rock hotel, has been organised by Sepp Osley and has various artists on the bill including Marillion's Steve Hogarth and Nick Van Eede of Cutting Crew. A remixed version of the single 'Dear John' hits the airwaves at the same time along with a video featuring various musicians voicing their good wishes to the Beatles' legend.

Blurred Vision blend nostalgic rock with a modernised pop touch. Combined with the thought-provoking lyrics that have become the band's trademark style, it creates a compelling and adrenalin-fuelled sound. Are they going places – you bet they are.
Photography