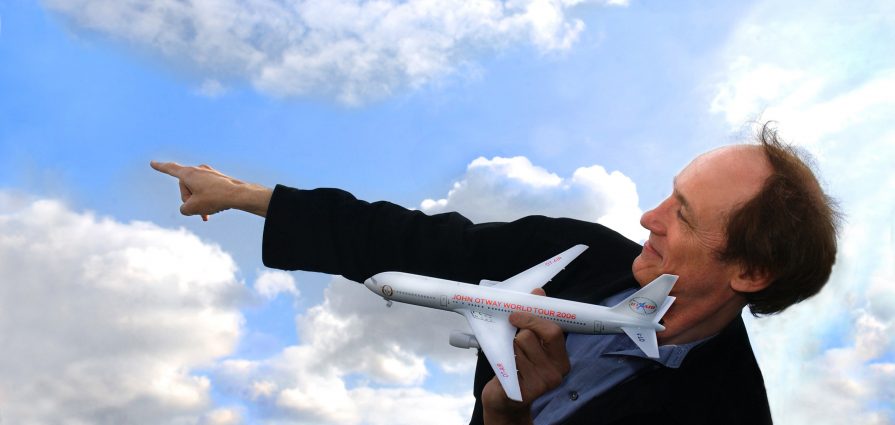 ---
Press Release
September 28th sees John Otway, Rock 'n' Roll's greatest failure, release the DVD and Blu-ray of his film, Otway The Movie (Product Code: ODNBM003).
To coincide with its official launch Otway embarks on a nationwide tour with his old partner in crime Wild Willie Barrett. (See attached for dates.)
Aptly titled the Film Stars Tour 2014, it sees them play 25 dates in addition to the shenanigans on the 28th.
At 2.30pm on September 28th Otway and his band play a special DVD Launch performance at HMV, 363 Oxford Street, London.
This is followed by a full gig at 7.30pm with Wild Willy Barrett at Leicester Square Theatre.
The DVD – Rock And Roll's Greatest failure: Otway The Movie – is distributed by Odeon Entertainment and is (for Otway) surprisingly good. It charts the all too frequent lows and spasmodic spectacular highs of this one man's ongoing reach for stardom.
The movie premiered at Leicester Square Odeon. (Never one to stint, Otway chose Leicester Square Odeon for the 'producer's cut' adding on the film's ending on the day). It then made a big impact at 2012's Cannes Film festival before going on to play at Glastonbury Festival and over 50 cinemas across the UK.
Financed by his fans, the movie was deemed unanimously to be a triumph. It received a four star review from the Guardian, and others, while Guardian readers voted it the Second Best Movie of 2013. http://goo.gl/gNttMA … second only to Gravity.
Featuring classic archive film and TV footage plus interviews from family and antagonists universal in their estimation of his talent, it shows just how much can be made out of just how little. Analysing the disastrous decisions that led to 25 years out of the limelight before returning once again to the top, it demonstrates all too well the pitfalls of the rock 'n' roll dream.
Otway The Movie follows in a great tradition of rock films from Spinal Tap and Performance onwards, but its frank (and very funny) no holds barred portrayal of one of rock's most likeable characters makes it an unreserved, must see, stand alone, self-assured HIT. www.otwaythemovie.com
Photography